There's a million and one baby products you can buy and it can be super overwhelming to know what you really need. Here is my list of my most used products that I would definitely buy again!
Ok first let's break it down with all the GEAR:
Car seat: I went with the Nuna, which was hands down the number one recommended car seat by all my mama friends. So then there's the Nuna Pipa or the Nuna Pipa Lite. I chose the regular Nuna Pipa because you don't have to have a base for it. We still use a base for it in our own cars but it's nice to not have to have the base with you at all times.  We travel a lot so I can't imagine having to lug an extra base around with us.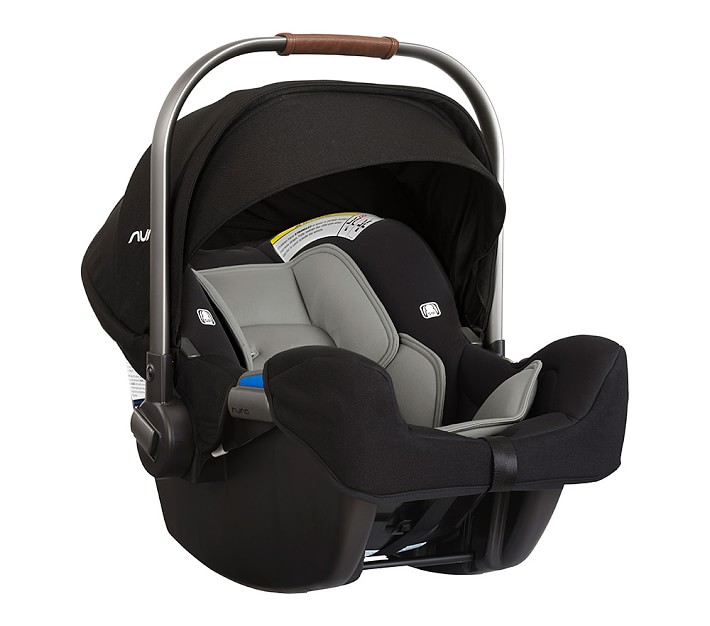 That brings us to a Car Seat Base. Like I mentioned, our carseat doesn't need one but I feel a lot safer with her in one. We originally started off with just one and then quickly realized there is NO way we were moving that thing from car to car each time, so I would highly suggest ordering 2 if you drive multiple cars. 
Stroller: I asked every single mom I know which stroller I should buy, after all it's a pretty pricey item! I ended up going with the UppaBaby Vista. I think the quality of UppaBaby is amazing and I love how the stroller can grow with your family. You can add seats, standing boards, practically anything you can think of onto that thing, which makes it a great piece to invest in if you plan on having multiple kids. HOWEVER, I did not need the bassinet which comes with the Vista for almost $1000 dollars…rookie mistake. Sure, it's nice to have but to be honest, we hardly used it. Usually we just have the stroller base in our car and plop her carseat right into it (they sell Nuna Pipa car seat adapters to fit into any stroller brand, I'll link them here). If I could do it all over again I would have gotten the UppaBaby Cruz version without the bassinet. With all that being said…I'm not 100% convinced we chose the right stroller. It is SO bulky. It's a nightmare taking it into stores, not to mention it's super heavy putting it in and out of the car. All I'm going to say is if you get a big stroller like the UppaBaby Cruz/Vista, you 10000% need to buy a travel stroller as well to transport around town.
That brings me to the Travel Stroller which i didn't end up having until right before our Hawaii trip when Scarlett was 10 months (another rookie mistake). Travel strollers are essential just light weight, easy to transport strollers that don't necessarily have all the storage/bells & whistles, but do the job. I prefer using a travel stroller when we go anywhere because it is SO much easier to break down, carry, maneuver, just all around way better and you def need one. The other options I looked at were the Bugaboo Ant and the Yoyo (I'll link them below because I've heard great things) but I have the Uppababy and I'm overall really pleased with it.
Bassinet: We had Scarlett sleep in our room for the first 2 months while I was waking up to feed her during the night. I contemplated the Snoo, but ultimately decided against it because I didn't want her to get used to being rocked back to sleep every time she woke up. I think that was the right decision for us because she learned to sleep through the night by the time she was about 10 weeks old since she was able to self soothe. Anyhow, obviouslyyyyy the bassinet had to match our decor/look nice (you know me) while still being practical. My girlfriend generously let me borrow hers because I loved it so much!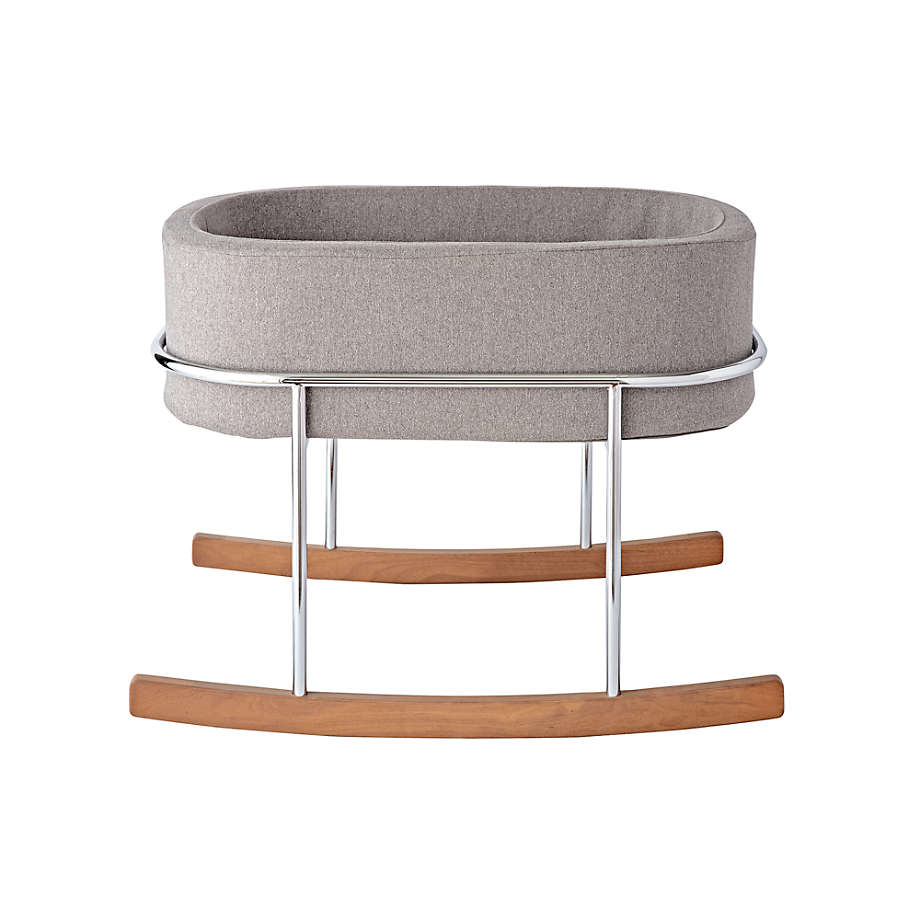 Lounger: Hands down my favorite baby item we used was the Baby Bjorn bouncer. I used this every single day (starting around 2 months) and Scarlett absolutely loves it. What I love about this one is that it is aesthetically pleasing compared to a lot of others out there (comes in a bunch of neutral colors) and super light weight (so easy to fold up and move around the house). I put it in the kitchen while I make dinner, in the bathroom while I shower, you get the point. She is content in just the bouncer but I bought a clip-on toy bar for it on Amazon and it took it to a whole new level. Highly, highly, recommend getting both things! 
Swing: So nice to have especially for the newborn days when your baby may be a little fussy but you need to put them down to get things done. We actually have 2 in our house (one in our bedroom and the other in our living room) which is totally not needed but it is convenient! I've heard a lot of people's babies don't like the swing but Scarlett loves it and it's saved me countless times when I need to free up my hands or she doesn't want to nap in her crib.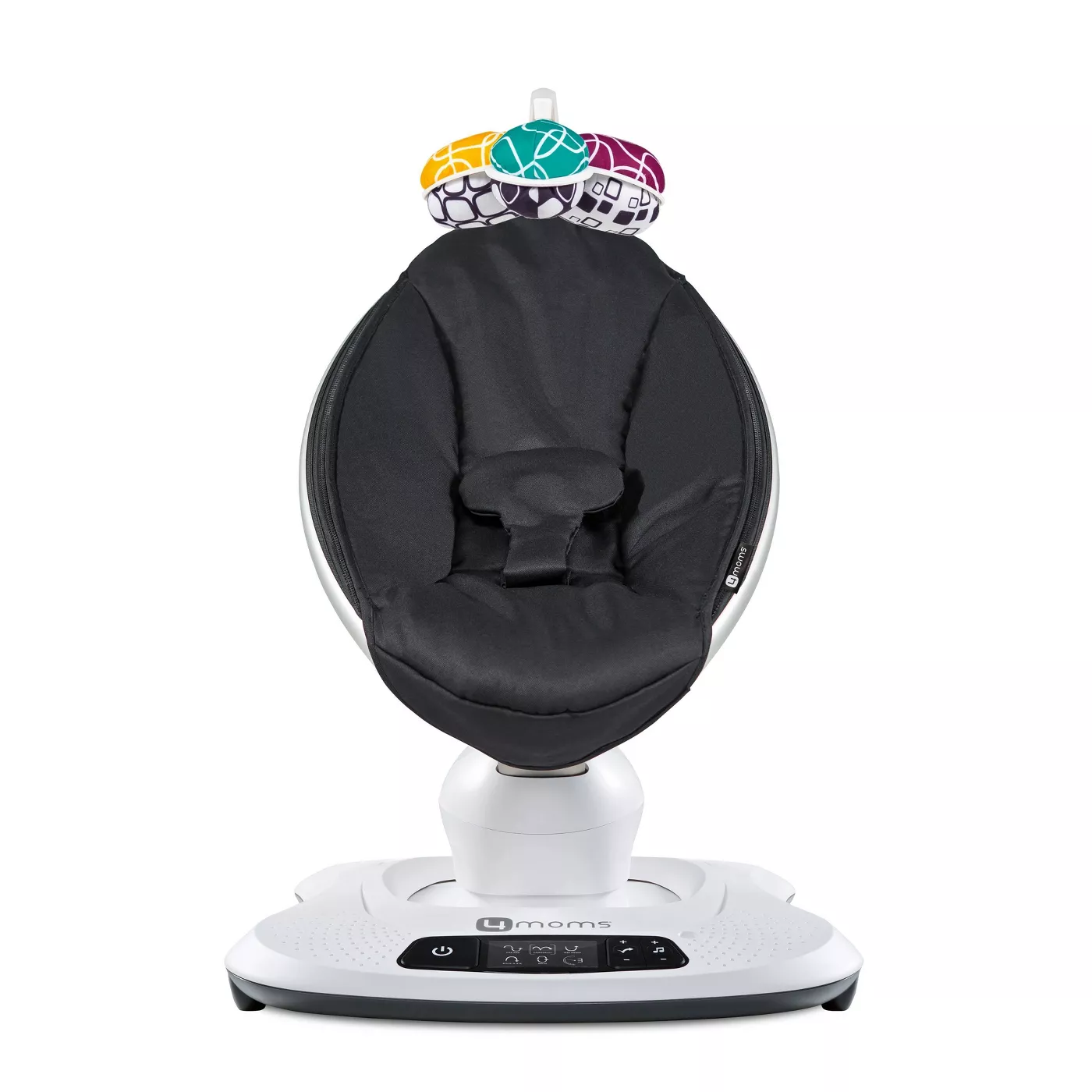 Activity Gym: There's a million and 1 options out there but if you're anything like me, it has to look nice, while also serving its purpose of course. We started using ours around 6-8 weeks once Scarlett was able to open her eyes for more than 20 minutes lol. They make really cute ones now that aren't so obnoxious to look at (linked some cute options below) .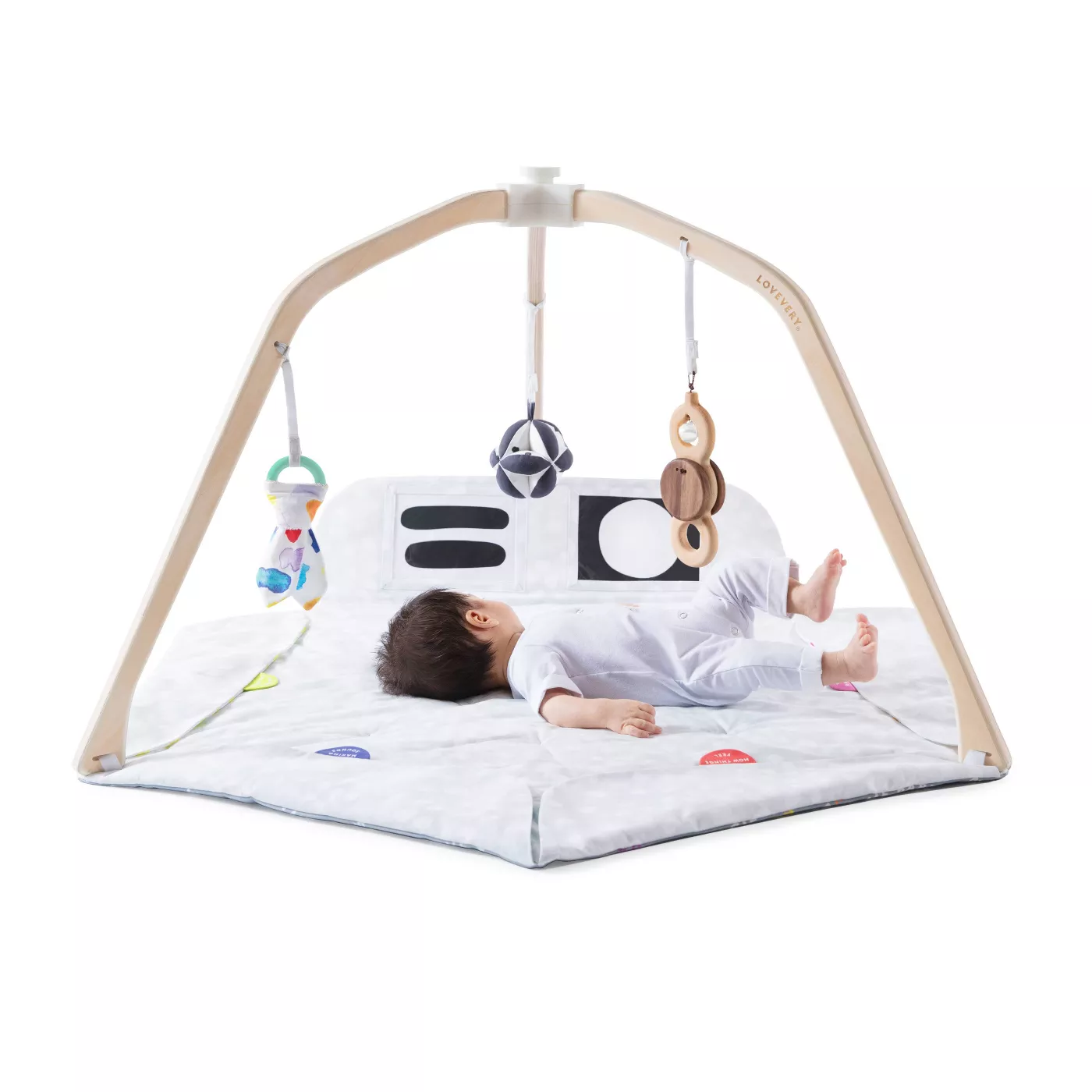 Play Mat: You'll definitely need some sort of mat for your babies to roll around on if you don't have carpet in every room of your home. Once again, since we put one in our living room, IT HAD TO BE VISUALLY PLEASING (lol I know I have issues) but honestly, I could NOT do a rainbow alphabet mat on my living room floor everyday. And I didnt have to!!! I found a ton of really cute play mats that looked like legit rugs and LOVE the ones we ended up with. I got the cutest print for Scarletts nursery and the one we have in the living room is SO chic (linked both options, plus another print I love). 
Travel Crib/Pack & Play: whatever you want to call it. Super nice to have, but don't necessarily need. Most hotels (every single one we've stayed at since having Scarlett) has had some sort of pack & play or crib available (you just have to request it when you check in) so we haven't had to bring ours on vacation. BUT we have used it a bunch of times when we've stayed with family or friends that dont have a crib or even in our own house. I've set it up in our rooms a couple of times when there were some construction projects going on downstairs, we used it on the RV trip, I bring it to my moms house when we visit, etc. If you do plan on buying one, I love the one we have because its super compact and easy to assemble/disassemble.
Activity Center: Not to be confused with an activity gym lol. CANNOT RECOMMEND THIS THING ENOUGH. Seriously though, you 100000% need. I debated getting one of these because I think they are hideous (sorry) but for the love of my child (and my own sanity) I caved. Trust me when I say I researched every single option you could buy (I would have paid an arm and a leg for one that looked cute and chic haha) and this one was the best option for functionality + looks. I could write a novel for why I love this thing but just trust me on this….you need it. 
Baby Carrier: I have both the Baby Bjorn and the Ergo Baby. I like them both. I think the baby Bjorn is easier to put on yourself and is a little bit more comfortable, but my husband says he prefers wearing the Ergo Baby so it's really a personal preference. I like having two, one for each car, or one to keep at home, and one in the trunk, idk, I just like having 2 lol. But both are good options, If I could only pick 1, I think I would go with the Baby Bjorn.
Portable High Chair: This is another one of those 'nice to have things but you don't really need it'. We bought one to take with us on our RV trip and have used it tons of times after if we go to friends houses, the beach, picnics, etc.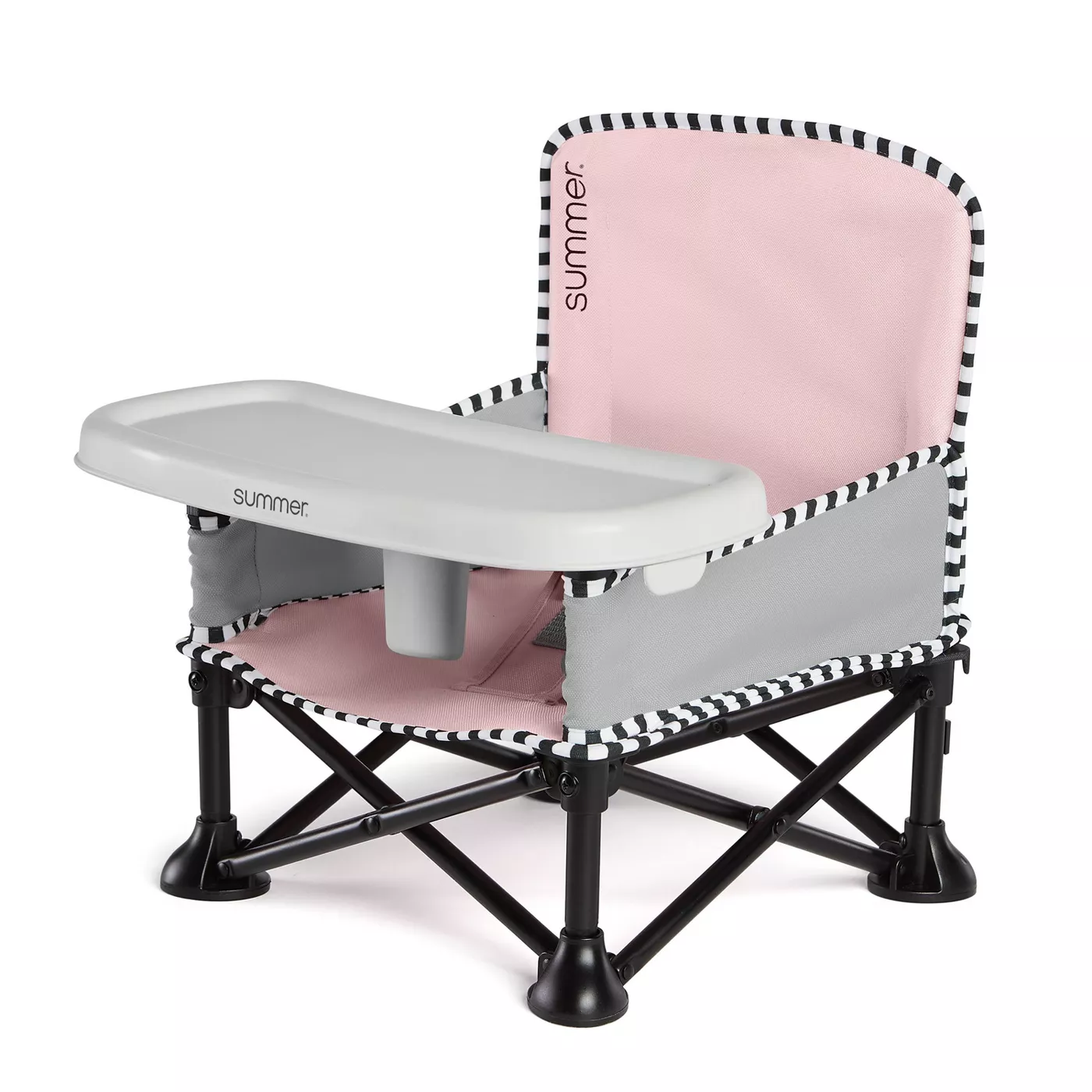 I'm sure I'm forgetting things so if you have any questions, need links, etc. let me know 🙂
BATHING/FEEDING:
Bathtub/seat: When your babies are super little, you'll want some sort of small tub to lay them in. Once she could sit up on her own I bought a bath seat which I highly recommend purchasing, makes life a lot easier.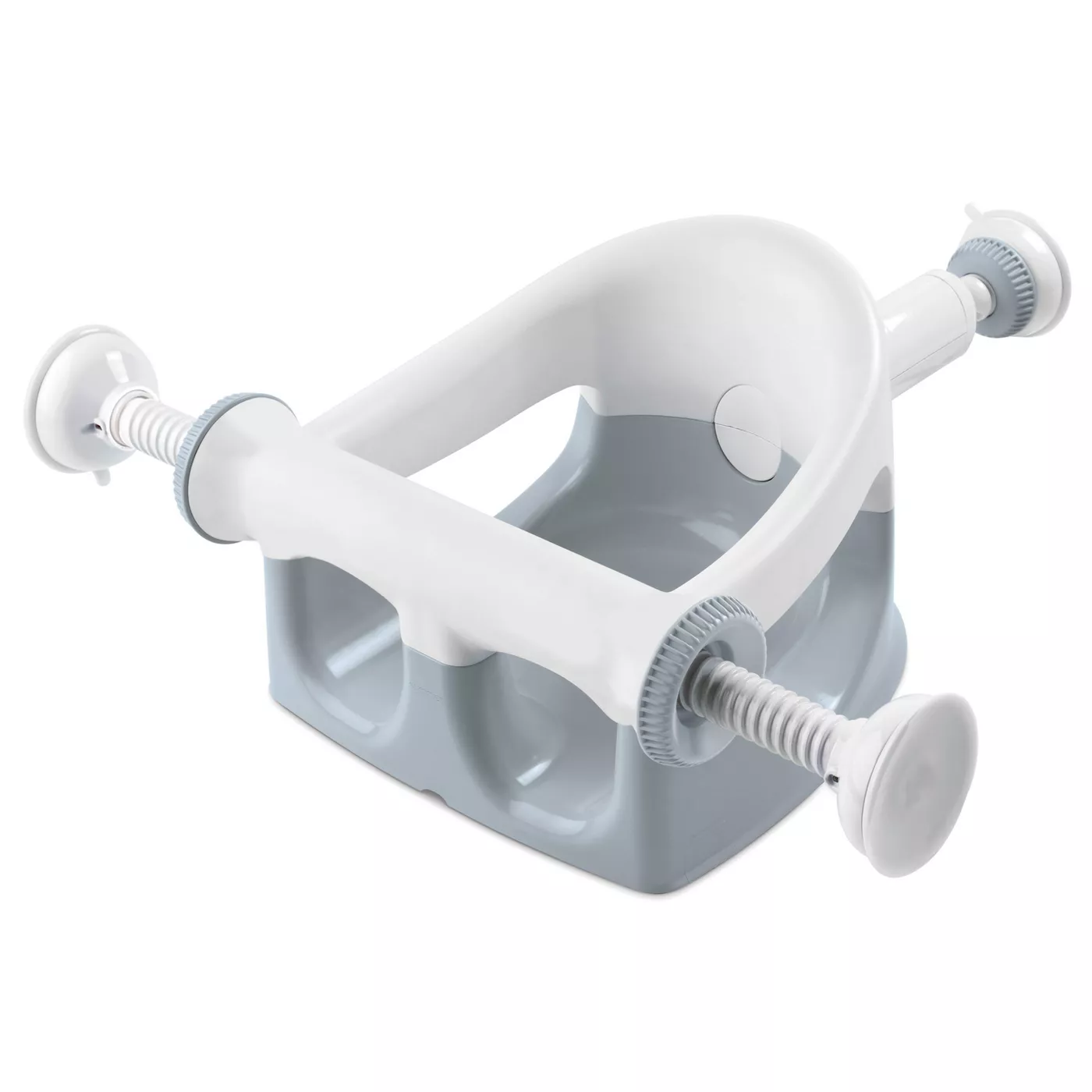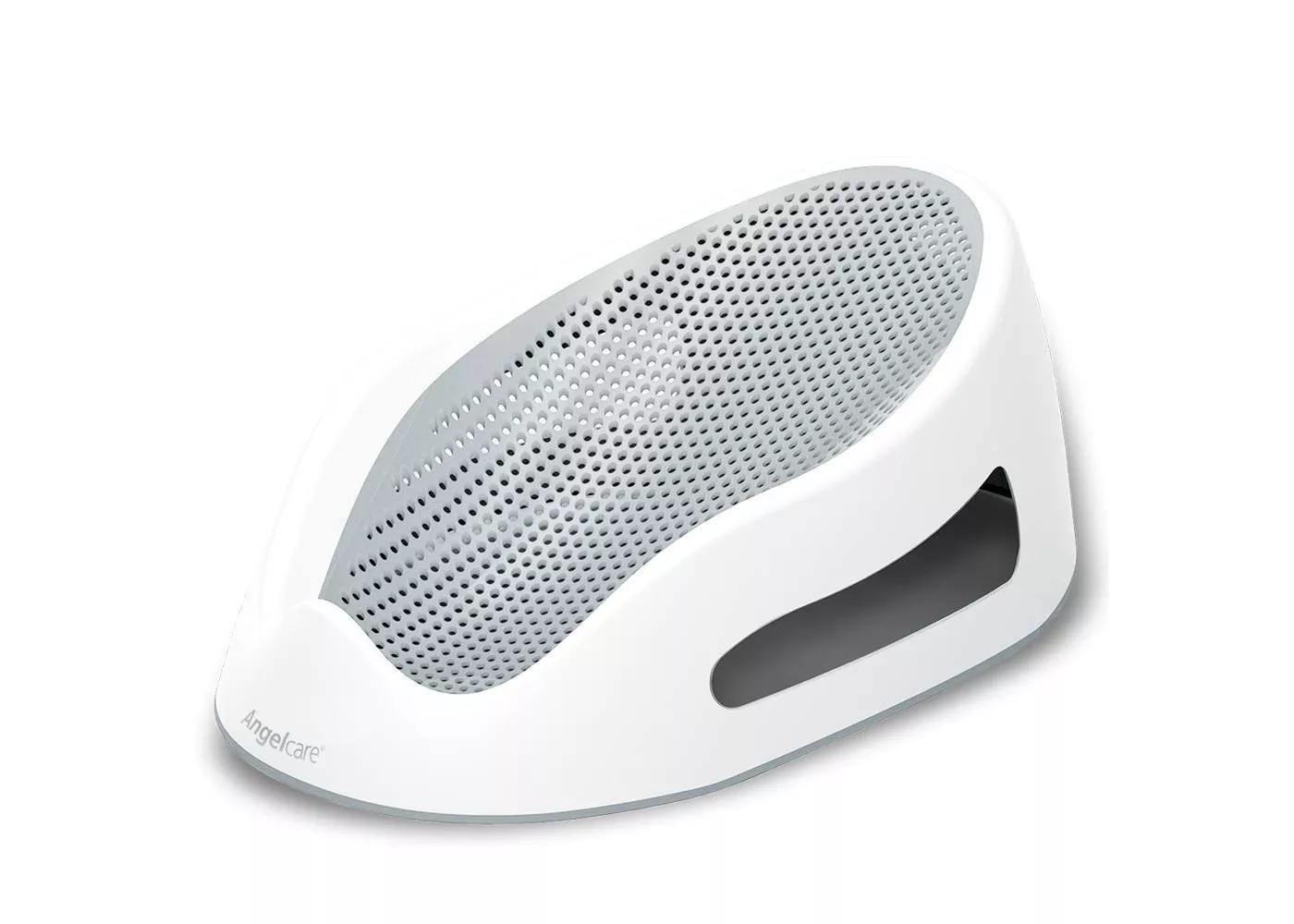 Ok so I exclusively breastfed, therefor I can only recommend the products I used on my breastfeeding journey but here are my "must haves":
Haaka: This is a GAME CHANGER!!!! Like 10000% every breastfeeding mom NEEDS. Google or watch a Youtube video on how to use it (super easy once you figure it out) but it's used to catch the "let down" milk so it doesn't go to waste. It increases your milk supply, while also letting you build/save up a frozen stash WITHOUT PUMPING. I used this every single time I breastfed during the first 6 months. 
Pump: I had 2. You don't NEED 2, but they served different purposes. I mainly used the Spectra S2 which is hospital strength, came highly recommended and I have nothing bad to say about it (other than the fact pumping sucks no matter what pump you have lol).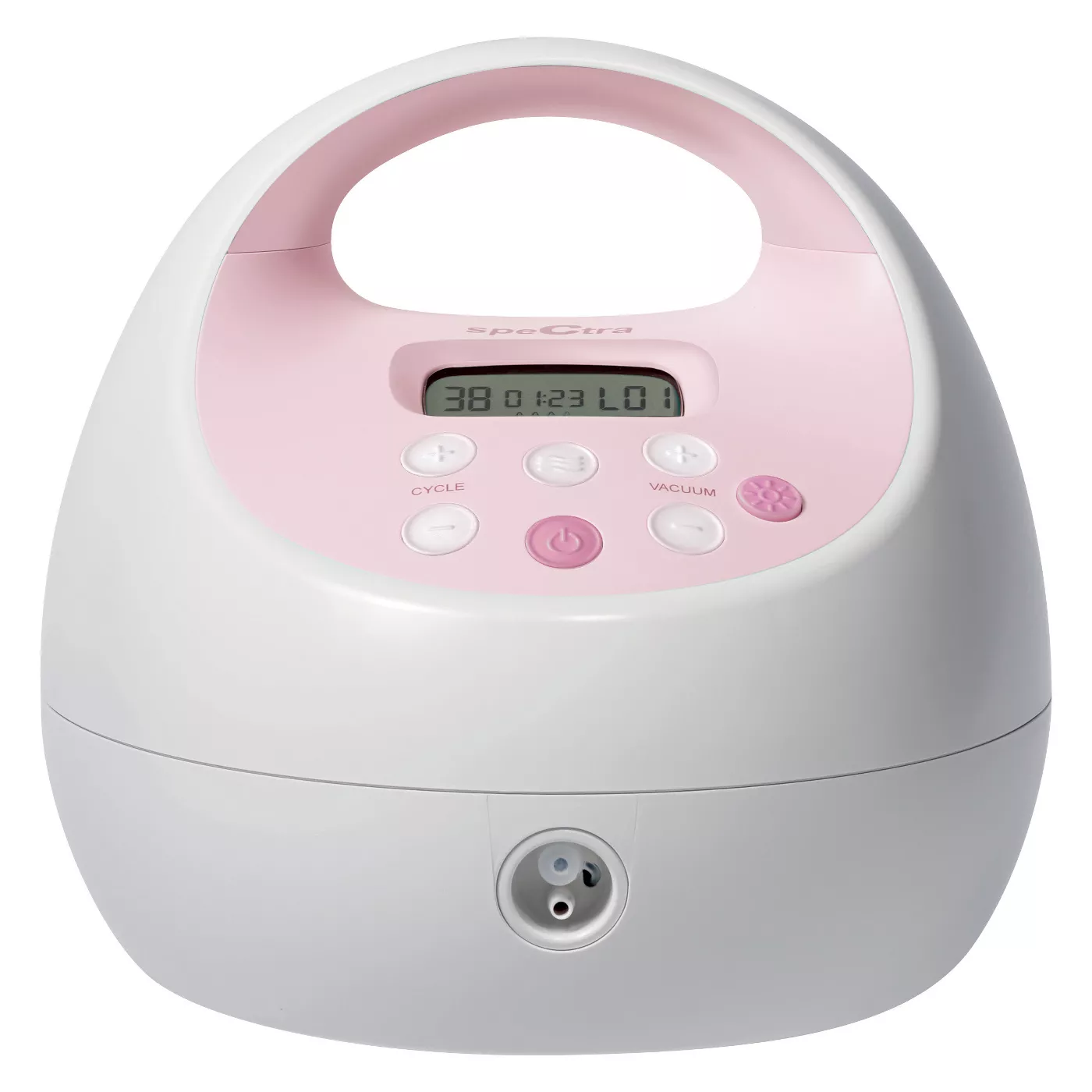 I also used the Elvie hands free pump, which is quite a splurge but if you have multiple kids, work, travel, or just don't have the patience to sit and pump, it's worth it. Basically you just put the pumps in each bra cup and you can wear it under your clothes on the go. It was super convenient if I needed to pump while out to dinner, in the car, or really needed to clean the house/pump at the same time. I will say the strength compared to the Spectra is not even comparable so if you're looking for a pump just for home, don't bother. BUTTTT for the purpose it serves/freedom it gives you, it's worth it.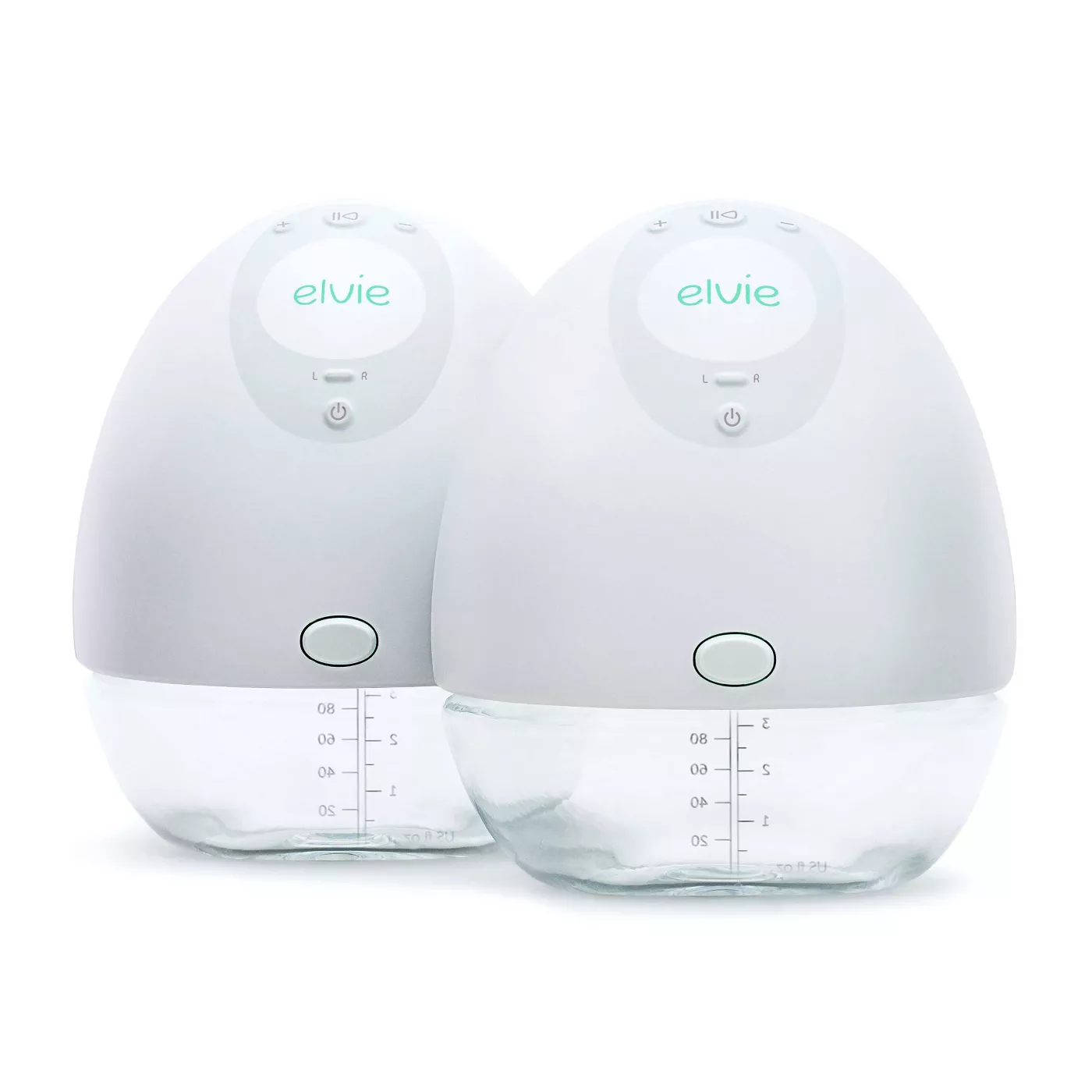 Nipple Shield: The not so glamorous side of breastfeeding (is there even a glamorous side?) are sore/cracked/painful nipples. For that reason alone, the nipple shield is a lifesaver but also Scarlett wouldn't latch and I had to use a nipple shield for 4 months straight every single feed. TBH, it saved my breastfeeding journey and probably would have thrown in the towel after the first week without one. 
Bottles: So like I said, we didn't really do bottles since I mostly breastfed (occasionally we would do bottles with my pumped milk but not often).  I'll link the ones we used below. 
Pacifier:
We tried a few and she loved this brand the most. Comes in super cute colors. We also had a few Wubanubs for her (little binky with the animal on it) but I have heard they are really bad for their teeth because of the weight (Idk do your own research but that's why I didn't give her them).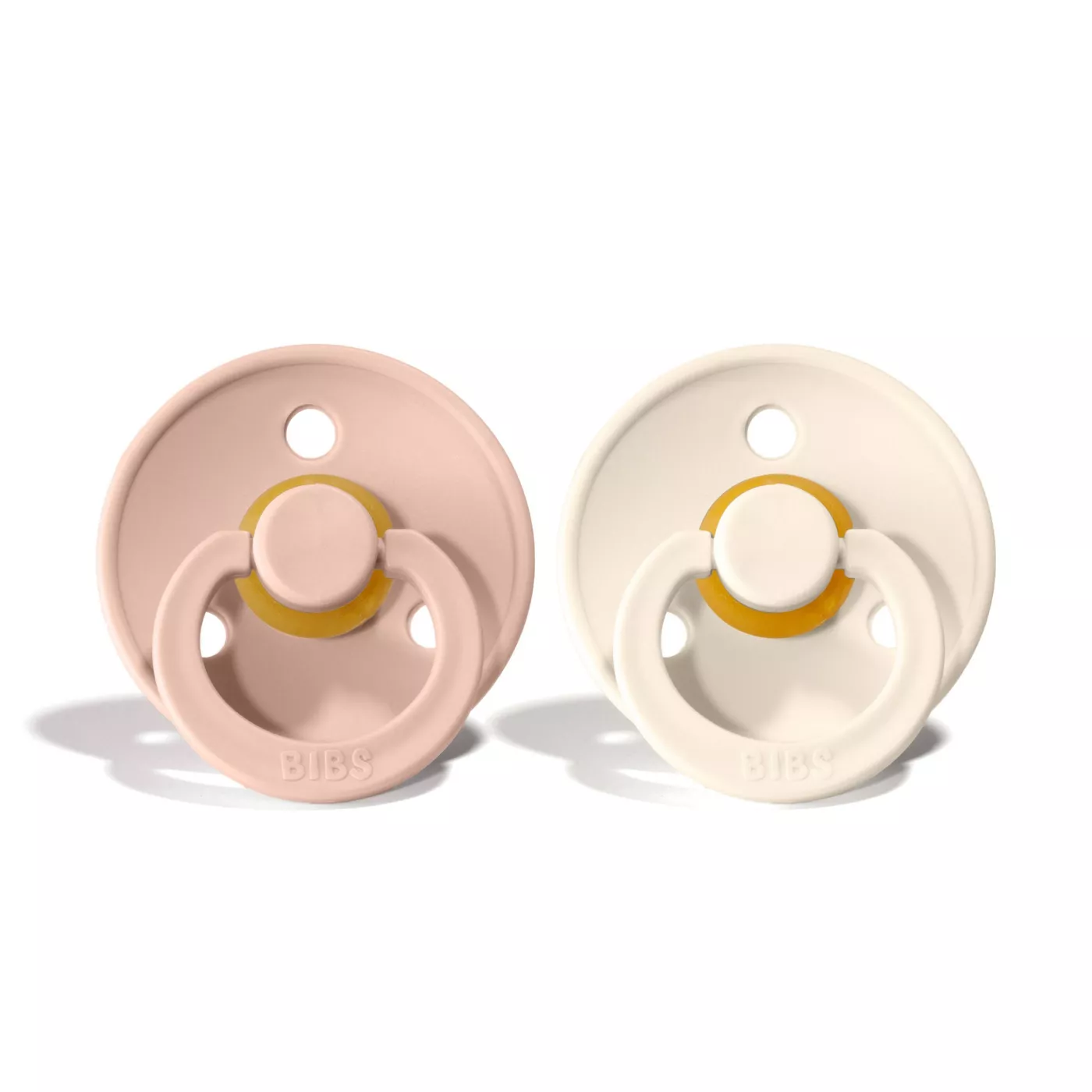 Bibs:
To be honest, I rarely use a bib for Scarlett. If I do, I use the smock bibs because they don't seem as bulky/uncomfortable for her and cover her whole outfit/easy to clean (I just throw mine in the wash). 
Bowls, spoons, sippy cups:
SLEEP:
Sleep Sack: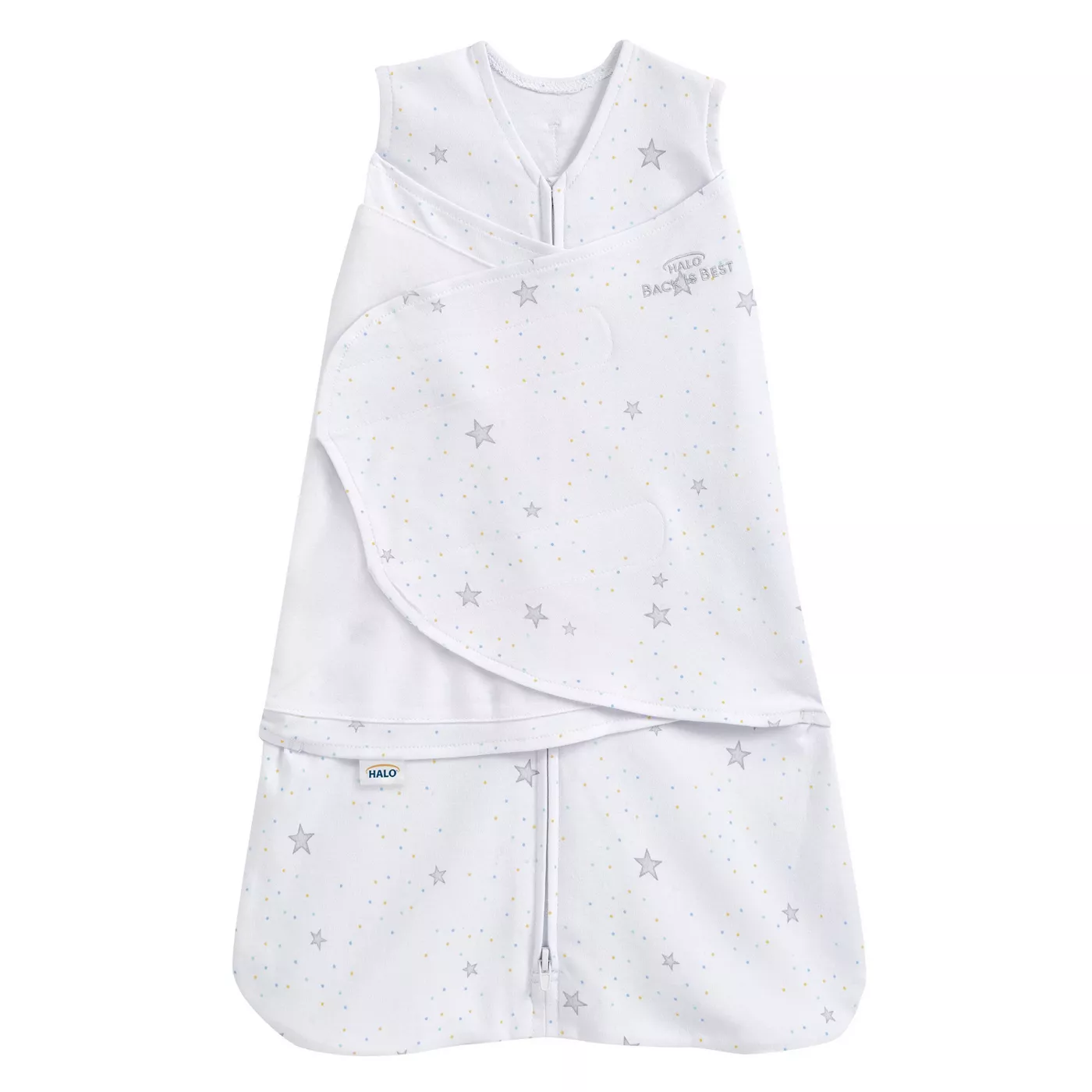 Sound Machine:
IMO, you don't need a fancy sound machine-anything with white noise will do. We have this fancy shamncy one because everyone and their mother told me I needed it. And ya, no complaints here lol.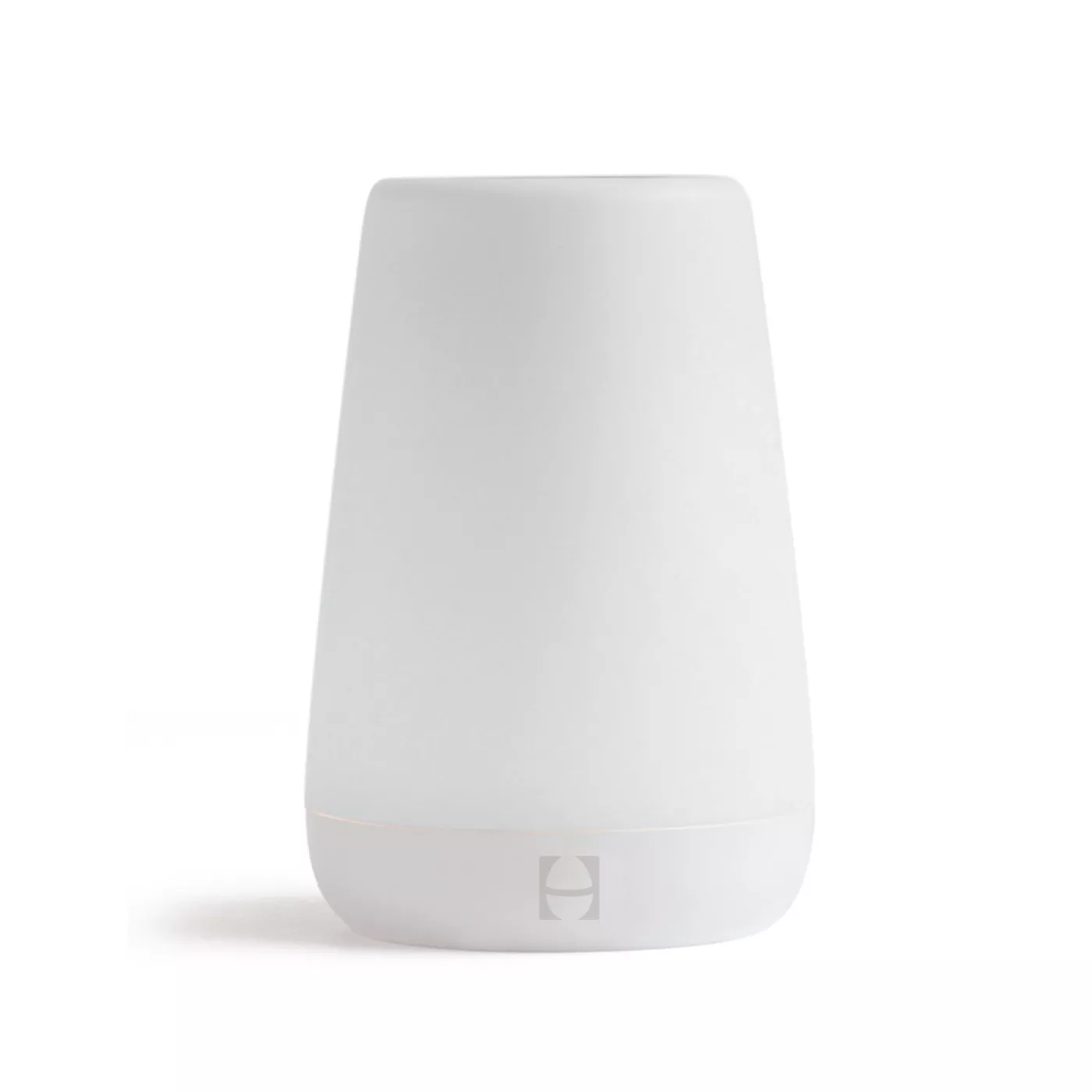 Sleep Suit:
HIGHLYYYYY recommend this for those babies who love to be swaddled. Once they can roll over, it's not safe to swaddle them at night anymore and I was terrified to take the swaddle away because Scarlett had been sleeping through the night since she was 8 weeks old and I was so afraid to mess that up. The first couple days were rough but after that, she loved this thing and she wore it all the way until she was 9 months!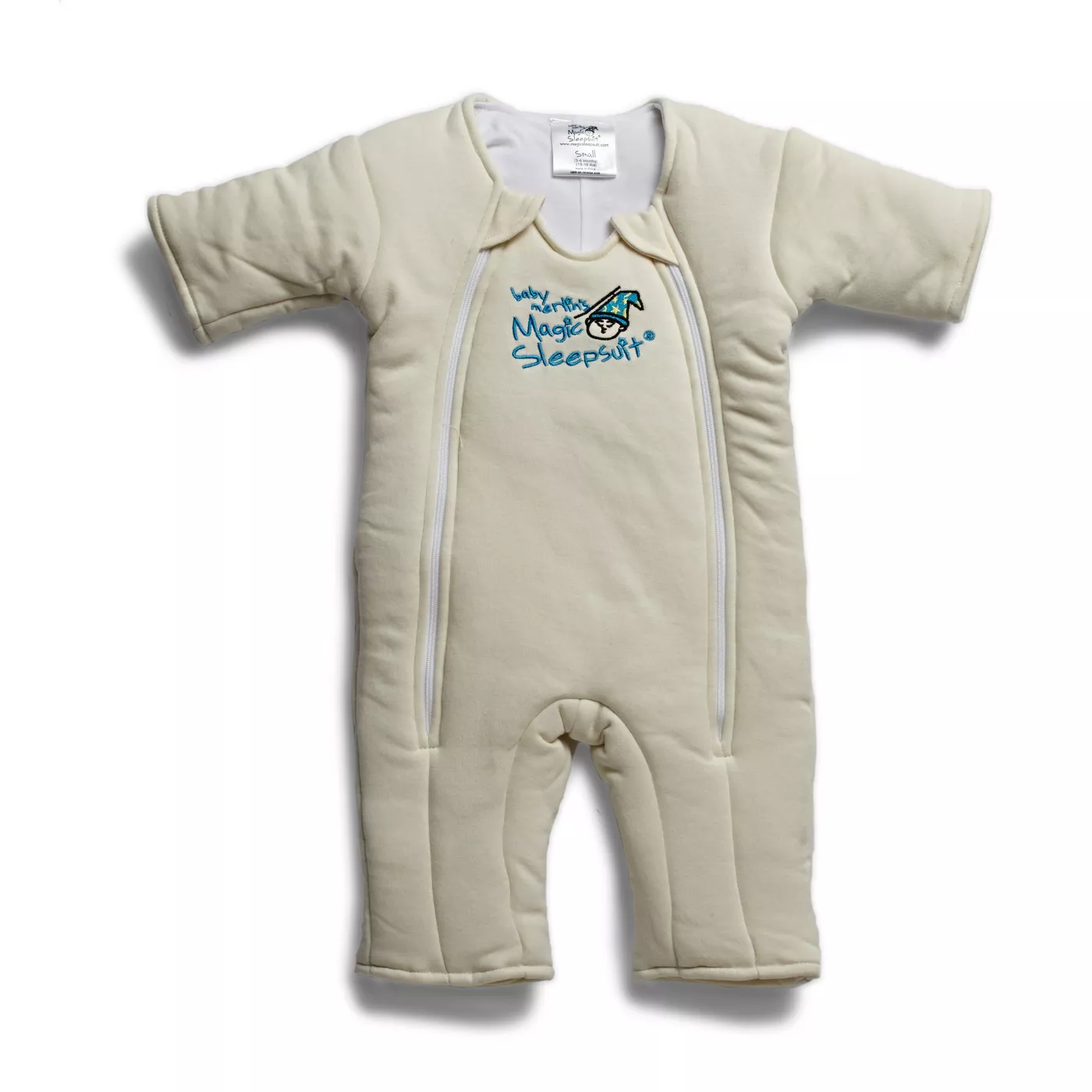 If there are any other links you need, questions, rec, anything, LMK!!!
LOVE, BREE